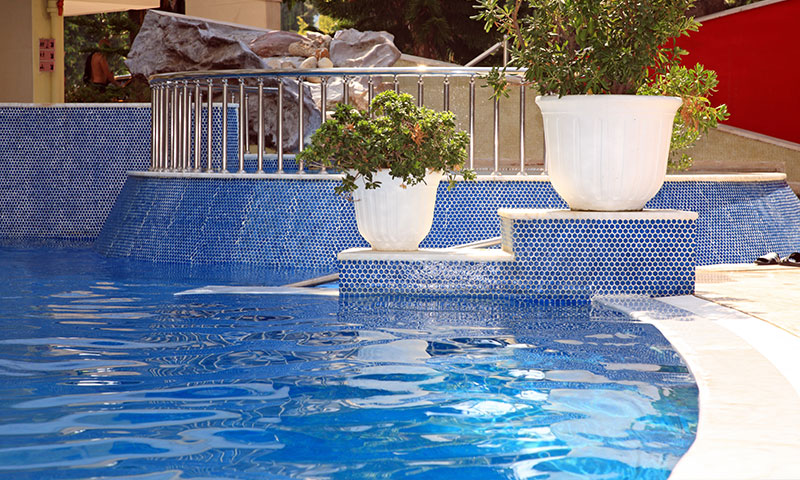 What are the factors that influence the color of pool water
April 14, 2023
by SunFun
When it comes to installing a new pool, there are numerous decisions to make, both big and small. One critical decision to consider is the surface color/finish, which can significantly impact the color of your pool water. Additionally, there are many other variables that can influence the color of your pool water.
The apparent color of your pool water is heavily influenced by the size and depth of the pool. The depth of the water impacts the refraction of light off the pool's bottom, resulting in variations in color.
For instance, the same pool color may appear more intense and deeper in a large, deep pool than in a small or medium shallow pool. You can observe this phenomenon when you gaze at a crystal-clear tropical ocean, where the water near the shore appears nearly transparent, the water further out looks turquoise, and the color changes to a rich, dark blue as the seabed deepens and the water gets darker.
The visual perception of your pool water's color is also heavily influenced by the pool's surroundings. For instance, a pool located amidst lush greenery will appear greener, irrespective of its surface color. If your pool is surrounded by bright green lawns and evergreen trees, it will reflect those colors. In contrast, if your pool is situated in a stark white sandstone hardscape, the pool water will appear much brighter. Moreover, a pool of the same color can appear different based on its surroundings. For example, a single color seems lighter when encircled by darker hues and darker when placed amidst lighter shades. 
Any pool owner can attest that pool water is not always crystal clear. If your pool water appears murky, greasy, or green, you may require assistance in regulating it. Cloudy pool water can arise due to the growth of algae or other organic matter in an inadequately cleaned pool, insufficient free chlorine levels in the water, or issues with the filtration system and water circulation. The presence of minerals in the water can also cause cloudy water, such as an excessive amount of calcium. Furthermore, the use of well water can introduce minerals and metals into the pool, affecting its color.